ROCK UP TO LAKESIDE AND REACH NEW HEIGHTS AT NEW THRILLING, FUN INDOOR CLIMBING CENTRE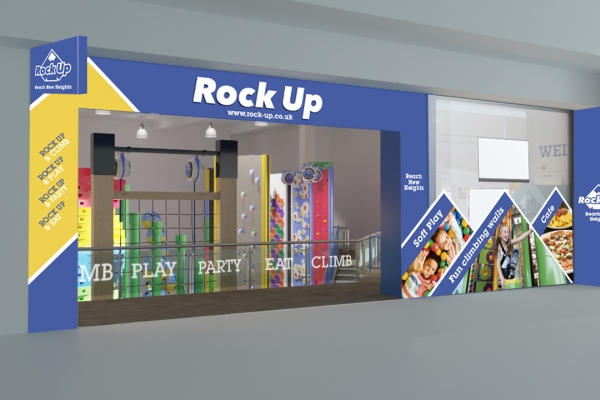 9th December 2019
Rock Up, the UK's leading fun climbing centre operator, is opening its seventh UK site at intu Lakeside and is aiming to welcome climbers from mid-December.
Spanning two floors, Rock Up Lakeside features 27 exhilarating climbing walls towering over 8m with multiple routes and challenges to their peaks – including the popular Vertical Drop Slide and The Stairway to Heaven climbs. There are also Lakeside exclusive climbs: A rotating climbing wall that provides an endless challenge and even changes angle, for the ultimate endurance test as well as the new block challenge – build your own high tower to belay off.
Suitable for all ages, novice to expert, toddlers to teens, adults and seniors, with no experience or equipment required, families can embark on the ultimate day out and have mountains of fun together.
What's more, it's not just climbing on offer as Rock Up also boasts a café serving Lavazza coffee and a range of delicious snacks. Plus brilliant soft play areas for babies and toddlers and private rooms for parties and functions.
A great way to build confidence, fitness, team bonding and have fun with friends, Rock Up is at the heart of the communities it serves and is perfect for hosting parties, scouts & guides groups, schools and corporate visits.
Located within intu Lakeside's 225,000 sq. ft new leisure development, Rock Up Lakeside covers over 9,500 sq ft and is accessed from the ground floor near House of Fraser, the multi-story car park and link to the station.
Heidi Duckworth, Executive Chairman, Rock Up, comments: "We're thrilled to be able to bring our fabulous new centre to intu Lakeside's 20 million annual visitors. We're working full steam ahead to get everything ready over the next few weeks, and we are ready to welcome thrill seekers and those looking for fun from all across the region.
"We started Rock Up as a group of new parents with a love for climbing and adventure and our idea was to give young people who may never have been near a mountain the opportunity to get skills and discover new passions. Being part of the new intu Lakeside leisure development is the perfect destination for our newest site."
Colin Flinn, regional managing director for intu said: "We're very excited to welcome Rock Up to intu Lakeside, offering another new experience for our visitors, and further strengthening our leisure and retail mix. The transformation of intu Lakeside into a major leisure destination for the south east area is creating the perfect environment for brands like Rock Up to thrive."
ENDS
For further information, please contact the Rock Up press office at:
Clarion Communications
Tel: 020 7479 0910
E-mail: zcarpenter@clarioncomms.co.uk
About Rock Up:
Rock Up is the UK's leading operator of fun indoor climbing adventures. With six sites already open in major retail and leisure destinations across the country, Rock Up has several more planned for 2020 and beyond. Rock Up Lakeside will combine over 27 exhilarating climbing walls which feature many attractive elements and challenges, together with a soft play and a café serving a variety of great food and Lavazza coffee. Rock Up is mountains of fun for all ages, novice to expert. Rock Up offers birthday parties, corporate packages and works with schools and many other community groups.